When we step back and think about our purpose at Realm, about what makes us get out of bed every day and go to work, we come to the notion of pursuing greatness through the cultivation and creation of beauty. Of course there are many people in other fields involved in the same pursuit: musicians, painters, sculptors, filmmakers, even athletes. It's just that our medium happens to be wine. Benoit, Scott and the entire Realm team could have chased greatness and beauty doing something else; but wine is where we chose to stake our claim. It is our life's work.
Why wine? Because when we talk about beauty in wine, we're referring to so much more than the juice that's in the bottle. After all, there's a lot of really great fermented grape juice in the world. In part, beauty is how we approach winegrowing, how we cultivate the land to create a wine that is personal and specific, with a sense of taste and a sense of place. If a wine comes from Stags Leap District, it needs to taste like the Stags Leap District and we need to respect that. Moonracer is a good example, a property that is so complex that we sometimes have to pull back and ask not just what the site should be, but what does it want to be, what does the wine want to taste like? That's the sense of place. Then there's the sense of taste: how we overlay our own philosophy, vision and way of crafting the wine. How we react when Mother Nature doesn't cooperate. Put those two together and that's what beauty looks like to us.
But truly great wine offers even more than a sense of place and taste. Wine is cultural and symbolic. It's also ethereal and highly subjective; we write release notes, but it's often hard to reduce a wine to words. Maybe they mean something to someone – articulate a taste or sensation they're having – and maybe they don't.
Scott: "I can tell someone what a wine tastes like, or a wine critic or journalist can tell someone what they should like, but that doesn't make it true or right. The taster needs to put in the time necessary to derive their own opinion, their own meaning. The same can be said of any form of art, be it painting, music, etc."
In wine, at least, that's why other cues are so important, things that are tangible, such as the labels we create, the stories we tell, the art and architecture with which we surround ourselves.
Realm's labels are perhaps the most obvious outward reflection of our aesthetic, each one a statement and story about the wine within. There's a lot of diversity in our labels, an overall modern sensibility and a little bit of chaos. Each one is arrived at with a great deal of thought.
And now, with the completion of the Whiskey Hotel, we have another manifestation of Realm, a palpable, physical representation of who we are and what we aspire to. As we went through the various stages of design and construction, we knew we wanted to build a facility that will stand for the next 60 years, but also one that reflected our modern sensibility. We wanted it to be beautiful, not only outwardly, but inwardly, in its functionality and utility. That's why we installed enough steel beams to see us through a major earthquake. And enough water storage capacity to get us through the next firestorm. There's a form and a function to the Whiskey Hotel and the infrastructure surrounding it that says something about Realm, about our presence in the here and now but also our durability and plans for the long journey ahead. To us, that is beautiful.
But the outward beauty, like the aromas and taste of a wine, is also important, and the art in our caves and on our walls and floors also say something about Realm. These are works chosen by us not on the basis of their monetary worth or the fame of their creators – although many of the artists have their works in museums – but because of the story behind them, something that is symbolic or representative of a deeper meaning. Each work has its own narrative, but also an aspect that relates to Realm in a personal way. The butterfly paintings by Hunt Slonem and Nathalia Edenmont reference the journey and metamorphosis of Realm. The mural in our caves by artist Victor Reyes, called the "Cave of Dreams," symbolizes the struggle, the balance between Man and Nature, the archaeology of a place or project. Banana Leaf, a contemplative piece by Pegge Hopper, one of Eden's favorite Hawaiian artists, exudes a quiet, contemplative feeling, ideal for its spot in the room where the team relaxes.
Scott: "One of the most interesting wine experiences I ever had was visiting Dick Grace of Grace Family Vineyards. We didn't taste any wine. But I got to know him and the values he wanted Grace to stand for because he walked me through his art collection. His art is museum-worthy but it also has very specific meaning to him. These were artists he'd met in Asia where he's travelled and done a lot of charity work. It was a perfect example of great art that was beautiful because it had specific meaning. In my mind that is the holy grail."
Ideally, each one of the works we have chosen will tell a story about Realm and make people think, whether it's a guest seeing it for the first time, a contractor seeing it for the tenth time, or an employee seeing it for the hundredth. Maybe they'll think it's beautiful, maybe they won't. At its best, the art will go further, allowing people not just to think, but to feel, to derive their own meaning from it. That's the parallel with wine. Great wine, like great art, takes thought, but ideally it should also make you feel. At Realm, if our labels, stories, architecture and art help you feel the beauty of wine, we've accomplished what we set out to do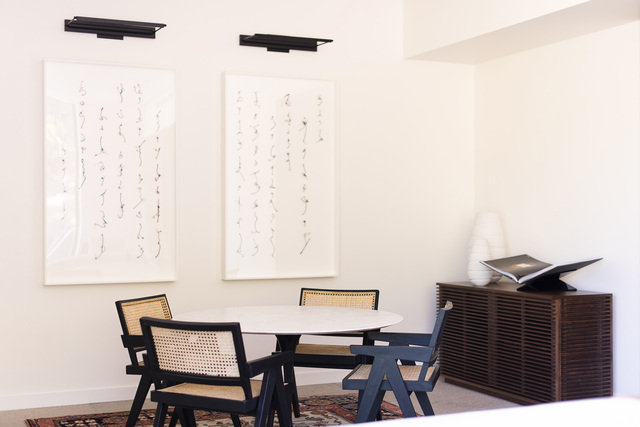 Cave of Dreams
Victor Reyes
Victor Reyes is an American artist whose contemporary paintings and murals can be seen in many cities throughout the world. In the summer of 2019 Victor spent 21 days at Realm, covering the walls of our new caves at the Estate with a work he calls "Cave of Dreams."
Butterflies
Hunt Slonem
With a distinct neo-expressionist style, Hunt Slonem is best known for his series of bunnies, butterflies and tropical birds, as well as his large-scale sculptures and restorations of forgotten historic homes. His works can be found in the permanent collections of 250 museums around the world.
Scott: "There are studies indicating that butterflies remember where they came from, that they have a kind of muscle memory of being caterpillars. They remember their journey, that metamorphosis, how they got to where they are. That's Realm. We'll always remember our journey."
Manuscripts of Nature
Cui Fei
Cui Fei is a Chinese-born artist whose work has been exhibited nationally and internationally. Inspired by nature, her favored materials are vines, twigs and tendrils that she gathers herself and forms into pieces that honor the role that calligraphy played in the development of Chinese civilization. In 2019 Cui Fei came to Realm and walked the Farella and Moonracer vineyards, gathering tendrils off the dormant vines and shaping them into what looks like Chinese lettering.
Banana Leaf
Pegge Hopper
Having lived in Honolulu since 1963, Pegge Hopper is known for her distinctive paintings of Hawaiian women and scenery. Her work has been shown in Chicago, Los Angeles and Seattle. Pegge is a favorite artist of Eden, who spent much of her childhood in Hawaii. Banana Leaf, which hangs in the Whiskey Hotel, is a representation of the peace, contemplation and relaxation we hope people feel when they're in the Pau Hana room, where our employees take breaks and end their workdays.
Rugs from the Claremont Rug Company
The eleven antique rugs that hug the floors of the Whiskey Hotel and our Library offer a deliberate juxtaposition of old and new. Chosen over a 10-month period by Scott, Eden and our design team, the one-of-a-kind rugs – the youngest at c.1900; the oldest at c.1875 – are a warm counterpoint to the clean architectural lines and modern palate we chose for our aesthetic, including the concrete floors. We worked with the team at the Claremont Rug Company in Oakland, led by Founder and President Jan David Winitz, a renowned art dealer who specializes in high-decorative to museum-caliber 19th century Oriental rugs. Jan and his team visited Realm several times to get a feel for what we were trying to achieve, and quickly recognized our penchant for "tribal" rugs, that is, pieces hand knotted and woven by female members of tribal groups who lived in Persia and the Caucasus Mountains, in what is now Iran and regions to the mountainous north. Tribal rugs have a more casual feel than traditional Oriental rugs, with geometric patterns that are friendly, artful and inviting. Filled with natural and spiritual symbolism, including sunbursts, animals, trees and plants, each rug has its own nomenclature, with iconography that would have been familiar and meaningful to its creator(s). We love these pieces of art, not only for the beauty they bring to the winery, but because the pairing of ancient and modern is so fitting for Realm, where the paradox lies, among other things, in the way the age-old craft of winemaking manifests itself in a contemporary way.